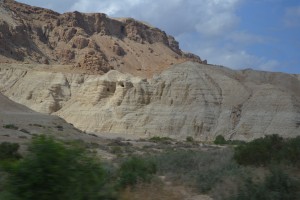 Background Verses: Numbers 13:26-33, Numbers 14:20-24, Joshua 14:6-15
Flickering firelight
danced across his weathered face
as he paced worriedly behind his brethren.
Caleb.
One of the Twelve.
Scout.
Surveyor.
Spy.
Forty days Canaan.
Time for a report.
The Twelve
gathered just outside the tent of Moses.
Circled the campfire.
Considered their conclusions.
For more than an hour
they talked.
The Twelve.
Leaders of their respective tribes.
Extolled the virtues of the land
God promised.
An accurate account of its…
Fullness.
Fertility.
Fruitfulness.
Grape clusters .
Too heavy for one man to carry.
Grain fields.
Bountiful and heavy with seed.
Grassy plains.
Suitable for grazing of vast herds.
They showed and shared the bounty.
Tasted its goodness.
Truly, without question, a land flowing with
milk and honey.
Just as God promised.
Caleb.
Listened warily.
Prepared for the other shoe to drop.
"A land flowing with milk and honey"…BUT…
He heard their murmurings
during their journey.
A land of promise, but not potential.
What would be the point.
The would never posses
what they could not conquer.
Daunted
by the fortified cities.
Overwhelmed
by the vast armies.
Intimidated
by the giants in the land.
Caleb knew their hearts to be…
Torn.
Timid.
Terrified.
They grimaced and grumbled about their fears.
Worried about facing the descendants of great warriors.
Amalikites.
Hittites.
Jebusites.
Amorites.
Canaanites.
"All too proud."
"All too powerful."
"All too much for us to handle."
Caleb could listen no more.
He winced at the
fury of their faithlessness.
"We cannot attack.
They are stronger than we are."
Frustration boiling over into an agonizing scream.
"Are you children afraid of the night?"
Every eye turned to the man of Judah.
Shocked at the outburst
from a man ordinarily subdued.
Moses locked eyes with his friend,
a knowing glance,
as if to say.
"Okay, you've got their attention now…"
Caleb.
Took a deep breath.
Exhaled slowly.
Walked back to the center of the campfire.
Plucked a handful of grapes from the Canaanite cluster.
Voice barely above a whisper.
"Everything you said about the land is true.
We could not ask for more.
Lovely.
Lush.
Everything of which we dreamed while in Egypt.
Everything God promised.
"The people are many.
Cities walled and protected.
The armies experienced and well-equipped."
Voice growing stronger as he
emphasized his point.
"You are right.
We cannot attack.
They are stronger than us…"
Caleb paused and looked the men squarely in their eyes,
fire of the campfire reflecting in his own.
"But they do not have our God on their side.
We do.
"We should go up.
Take possession of the land…
For with God,
we can surely do it."
Silence.
The men averted their eyes from Caleb's steady gaze.
Only Joshua stood with Caleb.
Then…
Arguments.
Counter arguments.
Lasted for hours.
No resolution.
As they disbanded,
Ten of the Twelve
spread panic among the people
until the the whole community refused to claim the land
God promised.
*
Rebellion paid its price.
God lost patience with their
constant condemnation
of their covenant with him.
The Lord made a new promise to Moses.
"No one who treated me with contempt will ever see the Promised Land.
Because my servant Caleb has a
different spirit and
follows me with his whole heart,
he and his descendants will inherit the land."
For 40 years,
the Israelites wandered in the desert.
Time passed.
A new generation of Israelites prepared to enter
the Promised Land.
*
Joshua.
Stood on the hill east of the Jordan River.
Stared across the deep valley into
the rugged terrain of the Negev.
The ancient city of Jericho just below the horizon
lay between the river and the mountains.
Joshua's task.
Divide the land among the Tribes of Abraham.
Take the land God promised his forefathers.
It would not be easy.
The Israelite leader heard the crunch of
stones under sandal.
Felt his friend of many years
standing at his side.
Joshua glanced to his right.
Nodded his head in simple greeting.
"Caleb."
Though 85-years-old, Caleb stood…
Straight.
Steady.
Strong.
He smiled at his younger friend.
Let his eyes follow the gaze of Joshua into the morning haze.
Stared deeply into the distant lands.
Thoughts dwelling upon the people they must defeat.
"Do you remember,"
asked Caleb quietly,
"what the Lord said to Moses about you and me?"
A question in need of no answer.
The Two discussed that day many times
during their desert wanderings.
"I let my heart speak then about the possibilities," said Caleb,
"though our brothers did not see it the same.
Yet, I have always followed God with all my heart and
always trusted his promises."
He shrugged as if his next statement was a given.
"If God gave the land to us, then they,"
Caleb nodded toward the unseen enemy,
"they cannot defeat us."
Caleb knelt on his haunches,
pushing aside the pebbles with his knife.
"You know as I do.
Our people feared the Anakites more than any other.
Their cities are fortresses.
Their men strong and tall.
'Like giants,' our people said."
Caleb laughed softly,
knowing there was some truth to their words.
Then, he let out a long breath.
Stood and squared his shoulders.
Pointed to the rugged countryside across the river.
Toward the land of Anak and the giants.
"Give me those mountains.
With the Lord's help,
I will drive them out just as he promised."
Joshua.
Amazed at the faith of his old friend.
Nodded in agreement.
Placed both of his hands on Caleb's head.
Offered a prayer and blessing for God's
presence and protection.
Without another word,
Caleb turned and walked away with purpose.
Prepared to claim that which
God promised.
*
The Bible tells us.
Joshua assigned to Caleb the land he requested.
The land filled with giants.
The Bible tells us.
The Lord helped Caleb defeat every enemy,
opening the land to Caleb and his family.
As history began to unfold.
Caleb's land became…
The land that gave life to David.
The land that gave birth to the Messiah.
Caleb's faith became a critical cog in the
plan and purpose
of God.
The Bible tells us.
Caleb experienced all God promised
"because my servant Caleb has a different spirit…"
"…follows me wholeheartedly."
Too often
we live a timid faith, recognizing the…
beauty of God's promise.
bounty of God's provision.
benefit of God's presence.
But, altogether failing to embrace the role we play in God's plan.
We see the real or imagined giants living
in the land we've been called by him to conquer…
and we cower.
Because he hold his plan in contempt,
we wander the desert of our heart
never experiencing the land
God's promised.
"My servant Caleb has a different spirit…
"follows me wholeheartedly."
What does this mean?
Conviction.
Ten of the Twelve
believed God's promise a lost cause.
Though they saw his provision in the land,
they lacked the conviction to claim it as their own.
Caleb.
Stood convinced that God would finish what he started
when he brought them out of Egypt.
Convicted of the truth that God would
honor his covenant.
We must
recognize that God's purpose and promise
is more than unfilled potential.
Our conviction moves us.
Moves us beyond thinking the task ahead is impossible
into a certain realization that
all things are possible to those who are called according to his purpose.
Conviction creates within us a
different spirit.
Confidence.
As one of the Twelve,
Caleb walked among the same fortified cities.
Stood in the shadows of the same giants.
Yet around the campfire
he demonstrated his complete confidence in the promise of God.
For we can certainly do this."
Unwavering Faith.
Unyielding Trust.
Unbridled Confidence.
We walk among the walled cities of a sinful world,
knowing, without doubt, that we face a difficult battle
if we stay on the path God chose for us.
Life's circumstances can seem…
Insurmountable.
Unconquerable.
Invincible.
In our own strength,
we remain powerless to overcome.
Yet, within the power of God,
the indwelling presence of the Holy Spirit,
our confidence soars.
Even as we walk among the giants,
our confidence in the Father allows us to walk with a
different spirit.
Courage.
Caleb begged Joshua.
"Give me those mountains."
Not because those mountains represented the
most fertile or the
easiest enemy to defeat.
Caleb wanted those mountains
because they were the most
difficult and dangerous.
Conviction and Confidence
allowed Caleb to trust in God.
Courage made it possible for him to
take that first step toward victory.
Conviction.
Confidence.
Courage.
One leads to the other.
All point to a personal God
who desires only the best for us.
Living wholeheartedly for God,
living with a different spirit requires that we are
Convicted
of his promise.
Confident
in his provision.
Courageous
within his presence.
Whatever walled fortresses prevent us from moving forward,
whatever giants cause us to tremble,
let us walk as Caleb walked.
May God see in us a
different spirit.