Background Passages: Ephesians 5:1, 15-17; Psalm 118:24, 29
I usually don't watch the news. I spent far too much of my professional career being interviewed by reporters, hoping that the editing process would maintain the integrity of my comments. Too often full disclosure was sacrificed for a tidy sound bite. As the media grows more politically polarized, corporate bias destroys the objectivity of the press.
With little to do this week because of an empty calendar and heavy rains, I ended up watching more news that I ordinarily watch. The stories were anything but uplifting.
• Devastating earthquakes in Ecuador and Japan.
• Disastrous floods in southeast Texas.
• Deadly acts of terrorism.
• Destructive politics at home and abroad.
• Declining civility toward those whose beliefs differ from our own.
It is any wonder that polls say people are more anxious today about the quality of life than ever in recent history. I must admit to falling victim, at times, to the tone and tenor of today, anxious about tomorrow and the world our children and grandchildren will inherit. As I turned off the news, I remember thinking, "Surely there is a cave on a deserted and isolated island where I can shelter my family from the horrors of the world."
Later that day I stumbled across an old Peanuts cartoon drawn by Charles Schultz. I had grown up with Charlie Brown. I think I read most of the 17,897 comic strips Schultz penned during his 50-year career. In this particular comic strip Charlie Brown sat alone on the curb with that typical forlorn expression on his face, thwarted at every turn by life. With a hint of resigned optimism, Charlie Brown said…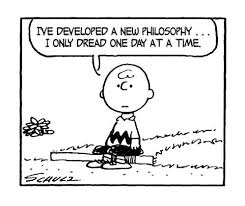 The cartoon made me smile and marvel at how God uses such ordinary things to remind us that his presence in our lives trumps every shred of doubt, disquiet and dread. As a Christian in a world in turmoil it is sometimes difficult to walk in confidence. How are we supposed to face life's uncertainties and our own insecurities when it seems the world around us has gone mad? How do we stop being anxious about all that we see happening around us?
Sorry, Charlie. The answer does not lie in dreading only one day at a time. Paul gave us a clue in his letter to the Ephesian church as they struggled to live in a world in equal turmoil as our own. Look at Ephesians 5:1, 15-17…
"Be imitators of God, therefore, as dearly loved children, and live a life of love, just as Christ loved us…Be very careful, then, how you live—not as unwise but as wise, making the most of every opportunity, because the days are evil. Therefore, do not be foolish, but understand what the Lord's will is."
We come to grips with a crazy world by imitating God, living a life of love as modeled by Christ himself. We don't fix the world's problems by retreating from it or bemoaning its existence. We heal its sickness by loving it more. By serving it more. By sharing the alternative. Paul tells us that in the midst of evil days, we must live wisely, make right choices, follow the will of God as we understand it. And this might be the key… Our efforts can't be uninspired or halfhearted. They can't be judgmental and condemning. We must make the most of every opportunity God gives us to share his grace and love to a lost world.
Making the most of every opportunity allows us to see every day as a gift from God. Another chance to serve him. Another chance to love. Another day to care for those in need. Another day to rejoice. Another day to celebrate.
Charlie Brown suggested that we get the most out of the life when we are thankful for each day. When he discovers how blessed he is he goes into his happy dance…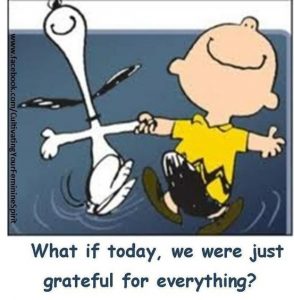 The Psalmist said it this way…
"This is the day that the Lord has made. Let us rejoice and be glad in it. Give thanks to the Lord, for he is good. His love endures forever." — Psalm 118: 24, 29
God, thank you for this day and the many unmerited blessings you have showered upon us.
Maybe today, instead of watching the news, I'll just break into my happy dance.
*****
(Author's Note: Feel free to forward this Bible study to anyone you feel might benefit from its message by clicking on the email icon at the bottom of the page. Encourage your them to subscribe to the blog by entering their email address in the box on the right side of the page. Thank you for sharing.)